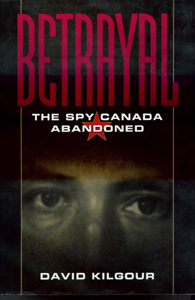 NOTE: This is the startling, true-life account of Ryszard Paszkowski, a Soviet-trained spy who defected and came to work for CSIS, expecting Canadian citizenship in return, only to have his hope denied.
Since this book was published in 1994, many Canadians have asked about the conclusion. In November of 2002, Paszkowski was granted permanent resident status retroactive to December 1984 by consent order of the Federal Court. To read the court order, click here.
In 2004, Paszkowski received his Canadian citizenship. To read exerts of his thanks to David, click here.
CONTENTS
Acknowledgements
Prologue
Chapter 1 - THE STAGE AND THE PLAYERS
Chapter 2 - SPY SCHOOL IN THE URALS
Chapter 3 - REALLY, JUST ANOTHER JOB
Chapter 4 - ROUGH EXIT FROM POLAND
Chapter 5 - GERMAN JAIL
Chapter 6 - FRENCH CONNECTION
Chapter 7 - ENLISTING FOR CANADA
Chapter 8 - NEW LIFE IN EDMONTON
Chapter 9 - BIZARRE EPISODE IN ROME
Chapter 10 - THE BATTLE FOR CANADA
Chapter 11 - ROMANTIC INTERLUDE
Chapter 12 - CANADIAN ODYSSEY
Chapter 13 - ONE MAN - SIX IDENTITIES - TWO STORIES
Chapter 14 - `SEND HIM TO GERMANY OR POLAND'
Chapter 15 - RETURN TO ANOTHER LION'S DEN
Chapter 16 - LEGAL SKIRMISHING CONTINUES
Postscript

To Lech Walesea,
Vaclav Havel,
Alexandre Solzhenitsyn
and all others
who disturb an unjust peace


It is not the critic who counts;
not the man who points out how the strong man stumbles,
or where the doer of deeds could have done them better.
The credit belongs to the man who is actually in the arena,
whose face is marred by dust and sweat and blood;
who strives valiantly;
who errs, and comes short again and again,
because there is no effort without error and shortcoming;
but who does actually strive to do the deeds;
who knows the great enthusiasms, the great devotions;
who spends himself in a worthy cause;
who at the best knows in the end the triumph of high achievement,
and who at the worst, if he fails, at least fails while daring greatly,
so that his place shall never be with those cold and timid souls
who know neither victory nor defeat.
Theodore Roosevelt, address at Sorbonne, Paris, April 23, 1910
Copyright © 1994 by David Kilgour
First Published 1994 by Prentice Hall Canada, Inc.,
1870 Birchmount Road, Scarborough, Ontario M1P 2J7